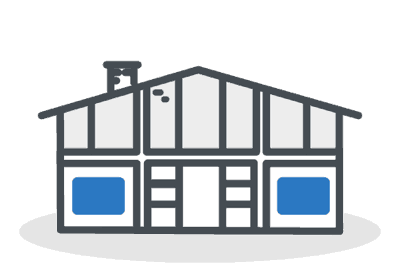 Sudbury Cottage Insurance
How Much Does Cottage Insurance Cost in Sudbury?
Cottage insurance in the province of Ontario often ranges between $800 and $3,000 annually. The cost of your Sudbury cottage insurance largely depends on the type of plan you choose, the coverage you need, and the unique circumstances of your cottage. The best way to find out how much Sudbury cottage insurance will cost you is to request a free quote from R&R Plan. We offer free quotes to all prospective clients. Your quote can be completed online in three simple steps. Get started with our free cottage insurance calculator. From there, you'll be asked to answer ten simple questions. Finally, you'll receive your instant quote, then and there. All R&R Plan cottage insurance quotes are 100% obligation-free, meaning you have nothing to lose by requesting a quote today. 
What Is Cottage Insurance and Why Do I Need It?
Cottage insurance, as the name suggests, is insurance designed to protect your Ontario cottage. Whether you own a seasonal property, year-round property, rental property, or are in the midst of building your new dream cottage, we've got you covered. Our premium insurance plans will give you peace of mind, knowing your home away from home is protected at all times. As cottagers ourselves, all R&R Plan cottage insurance policies were created with the needs of recreation residence owners in mind. We have been in business since 1993, and since then, we have quickly grown to be the go-to brokerage for cottage insurance in Ontario. Let us help you safeguard your cottage. 
What is included in Sudbury cottage insurance policies?
R&R Plan specializes in comprehensive cottage insurance for all Sudbury residents. The coverage included in your Sudbury cottage insurance policy largely depends on which policy you choose. R&R Plan currently offers four main cottage insurance plans: Seasonal Cottage Insurance, Secondary Cottage Insurance, Rental Cottage Insurance, and Builders Cottage Insurance. 
First, our Seasonal Cottage Insurance policy is best suited to those who enjoy their cottage seasonally in the spring, summer, and fall months only. This plan protects your home and belongings against fire, as well as several other extended perils such as storm damage, theft & vandalism, building collapse, and more. 
Further, our Secondary Cottage Insurance is designed for those who enjoy their cottage year-round (this plan provides coverage during all four seasons). This policy offers coverage relating to damage and theft under the guaranteed replacement cost. We are also the only cottage insurance provider in the province to include coverage for damage caused by bears, raccoons, and squirrels. 
Third, R&R Plan's Rental Cottage Insurance is for those who choose to rent out their cottage. This plan provides coverage for up to 6 months or as little as 30 days. Our Rental Cottage Plan includes coverage relating to rental income, personal liability, and owner's liability so that you can rest easy and enjoy the payoff on your investment. 
Finally, we offer Builders Cottage Insurance, which aims to provide protection while your new cottage is being constructed. Should you decide to purchase Builders Cottage Insurance, your cottage will be protected against any physical damage or liabilities that could delay or postpone the construction of your property. Materials on and off-site, in transportation, and during construction are also covered. 
How Can You Save on Home Insurance in Sudbury?
Sudbury cottage owners don't want an insurance plan that's going to break the bank. R&R Plan understands this, which is why we offer competitive and affordable rates on all of our policies. That said, if you're looking to reduce the cost of your Sudbury home or cottage insurance even further, there are a few things you can do. 
For example, decreasing your liability risk by implementing safe solutions to potential hazards could help you save money. If your cottage has a pool, fence it off, or if you have an aggressive dog, keep it on a leash when outside on your property at all times. If your cottage remains open year-round, be sure to shovel ice and snow from your walkway regularly. You may also wish to invest in insulated pipes, which prevent freezing during the winter. Other factors that may lower the cost of your Sudbury home insurance include if you're over the age of 55, if you have a centrally monitored alarm system installed, and if you use smart water devices, such as leak detectors or smart shut-off valves.
Please note that while other insurance companies charge an added cost for wood burning stoves, we do not. As mentioned above, we come from a long line of cottagers ourselves and as such, we know how important a wood burning stove or fireplace is to cottage living. For this reason, cottages with wood stoves are covered by our insurance plans at no extra cost.
No Pressure. No Obligation. Hassle-Free!
Step 1
Start Free Cottage Insurance Calculator
Step 2
Answer Only 10 Simple Questions
Step 3
Get an Instant Online Cottage Rate
Other Types of Insurance Available: