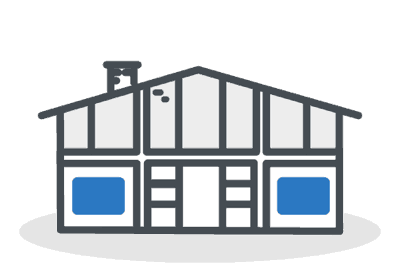 Sault Ste. Marie Cottage Insurance
Sault Ste. Marie is a popular cottage destination for many Ontarians. Whether you like spending long or short periods of time each year at your cottage, it's important to ensure your vacation home is protected year-round against financial loss from liability claims and damages.
The R&R Plan Cottage Insurance program provides comprehensive cottage insurance policies that are tailored to your unique circumstances. We've been in the cottage insurance market for more than 50 years and have been exclusively offering cottage insurance policies to many Ontarians. Our program is trusted by cottagers in Sault Ste. Marie and we offer the best cottage insurance policy for Ontarians. We offer cottage insurance policies that provide coverage for various types of cottage properties and designed specifically to keep your property safe all year round.
R&R's team of professional cottage insurance specialists has extensive knowledge of the cottage insurance market and the products available. Our policies are flexible and offer you the exact protection you need to confidently vacation with your friends and family regardless of the time of year.
We work closely with you to understand exactly what type of protection you need and find you the best rates to fit your budget. Some of our coverages are exclusive to the R&R Plan Cottage Insurance program, including squirrel damage, bear damage, snow load, and freezes. We also offer tailored protection for long-term and short-term cottage users.
In addition to our exclusive coverages, we're also the ONLY online cottage insurance quote provider in Ontario. Our goal is to make insurance a simple, fast, and convenient process for all cottage owners in Sault Ste. Marie.
Ready for affordable and quick Sault Ste. Marie cottage insurance from the R&R Plan Cottage Insurance program? Get a quote from us today!
Do I need to have home insurance in order to purchase cottage insurance?
It depends on the cottage insurance company you use. Some insurance companies require that you have a home insurance plan with them already before you can add a cottage insurance policy to your overall package. However, there are exceptions to this requirement and it really depends on the insurance company you use.
For example, at R&R Plan, we only offer cottage insurance to our customers. Since home insurance isn't required by law in Ontario, we don't require you to have a home insurance policy to purchase a cottage insurance policy from us. You can still get quick estimates, professional service, and comprehensive cottage insurance policies with us even if you don't have a home insurance plan.
What additional coverages should I consider in my cottage insurance policy?
It really depends on the type of cottage you have and the unique risks it has during the year, regardless of whether you're at the cottage or not. The R&R Plan Cottage Insurance program is the only one that offers additional coverage options like squirrel damage, bear damage, snow load, freezes, and short-term rentals up to six months.
As cottagers ourselves, we know that many people have watercrafts and boats they love to keep at the cottage and different ideas of relaxation. The R&R Plan offers coverage for water access cottages, land leased cottages, off-the-grid cottages, and cottage rental businesses.
Regardless of what risks you might run into with your cottage or cottage business, the R&R Plan Cottage Insurance program has you covered.
What does seasonal home insurance cover?
A seasonal home insurance policy is likely more expensive than a standard homeowner's insurance policy and slightly different in coverage. Seasonal home insurance typically covers your property and its contents, as well as any structures that are a part of your seasonal home, such as a deck or garage.
It also has liability coverage in case of third-party liability claims of injury or property damage. Some cottage insurance policies provide coverage for additional perils that could cause damage to your seasonal property, such as freeze-ups, squirrel damage, bear damage, and snow loads.
How Sault Ste. Marie's rates compare to other cities in Ontario?
Sault Ste. Marie is one of the most expensive areas for buying cottage insurance coverage. The estimated average cost of cottage insurance in Ontario is $800 to $3,000 annually depending on where your cottage is located and the risks it faces.
Northern Ontario gets more severe weather conditions than many other areas. Its remote location and climate change risks make it more likely for perils to happen and to a more severe degree. In addition, cottage owners in rural areas with high crime rates are more likely to file an insurance claim for vandalism or theft. Since you're not always at your cottage, the claims might be higher, which makes cottage insurance rates in Sault Ste. Marie higher.
No Pressure. No Obligation. Hassle-Free!
Step 1
Start Free Cottage Insurance Calculator
Step 2
Answer Only 10 Simple Questions
Step 3
Get an Instant Online Cottage Rate
Other Types of Insurance Available: