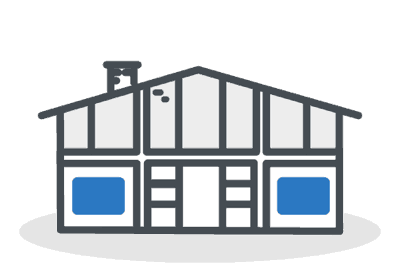 Recreational Property Insurance Ontario
Recreational Property Insurance Ontario
The clock in your office ticks down the seconds as you eagerly await the end of your work day. It is Friday, and your vacation starts soon. That new recreational property you purchased not long ago is just waiting for you to arrive so you can finally unplug, ignore your responsibilities and soak up the sun. Is there anything better than being able to vacation at your new cottage? But first, before you jump in the car and make that drive, it is critical that, as a cottage owner, you have the required insurance policies in place to protect you, your property and your personal possessions all year long.
At R&R Plan Cottage Insurance, we have assisted cottage owners in insuring their vacation homes for over 50 years. Thanks to our industry-leading insurance experts, our team offers Ontarians the best cottage insurance policies. Our comprehensive policies are customized to fit the needs of all cottage property owners, and we have uniquely designed them to ensure your property is safeguarded throughout the year.  
The R&R Plan Cottage Insurance team realizes that each cottage owner is different and requires an insurance policy that meets their unique needs. Our professional cottage insurance specialists work closely with our clients to curate the perfect type of protection they need. Thanks to our exceptional customer service and customizable cottage insurance plans, you can trust the R&R Plan to protect your assets and interests. Our team knows what it takes to exceed your expectations and ensure your experience with us is excellent. Cottage owners in the province of Ontario can feel confident in that we will provide you with the ideal protection plan.
How does Ontario's recreational property insurance work?
A recreational property insurance plan will usually cover structural and property damage to your secondary home. It will also protect you from legal liability if a guest is seriously hurt while on your property. For example, if a visiting guest takes a fall off your deck and injures themselves, they might decide to file a civil suit against you. But with recreational property insurance, the terms and conditions in your comprehensive insurance policy would protect you.
Another thing you will want to check is whether your policy covers restoration or upgrade expenses to your cottage in order to meet safety and permit codes. It is important to know if your insurance would cover the home or your recreational property's replacement cost.
Our professional and well-informed R&R Plan Cottage Insurance team is ready to answer all these questions and more. Together, you will work to customize your cottage insurance in Ontario. We want to ensure that our clients are fully knowledgeable and assured of their comprehensive insurance policies.
How can I purchase insurance for a recreational property in Ontario?
When purchasing recreational property insurance in Ontario, look no further than the R&R Plan Cottage Insurance. You can use our free online calculator to get your free insurance quote in just minutes, and our team of insurance specialists is ready to answer any questions you may have.
Several factors can affect your insurance quote, so before you get started, here are some variables you need to keep in mind:
How often will you use the property?

Where is it located?

Do you have road access all year round?

When was your recreational property built?

How will you maintain your cottage during the winter months?

Do you have a boat that requires additional insurance?
R&R Plan Cottage Insurance is Ontario's only online cottage insurance quote provider. Our goal is to make insurance a simple, fast, and convenient process for all cottage owners in Ontario. Get your free quote today!
What is protected under Ontario's recreational property insurance?
While cottage insurance has many of the same characteristics as your primary home insurance, there are some differences as your recreational property is usually only occupied for short periods of time, such as on weekends or for a few weeks or months at a time.
R&R Plan Cottage Insurance is thrilled to offer high-quality insurance policies for cottage owners in Ontario. Here is how our insurance specialists are prepared to assist you:
Seasonal Cottage Insurance 
This seasonal cottage insurance policy protects your secondary home against the following: 
Fire damage 

Storm damage 

Theft and vandalism 

Building collapse

Liability coverage available for up to $5,000,000 

Protection for an outbuilding, decks, and docks without any additional costs.
Secondary Cottage Insurance 
With our Secondary Cottage Insurance policy, we offer year-round, guaranteed replacement costs while protecting your cottage and personal belongings against the following:
Fire damage 

Storm damage 

Theft and vandalism 

Damage from bears, raccoons, and squirrels

Liability coverage available for up to $5,000,000
Cottage Rental Insurance 
With the cottage rental insurance policy, you will have coverage that includes the following: 
Personal liability protection in the event a third party injures themselves on your property 

Owner's liability protection against loss or damage caused by your boat

Rental income protection against financial loss due to damage or insured perils
This insurance plan will cover you for up to six months of the year.
Builders Cottage Insurance 
Start your cottage construction while protecting your structure against damage and liabilities. This coverage includes:
Protection of building materials both on and off-site 

Coverage during transportation and construction
Additional Cottage Insurance 
Additional coverage options for secondary homes include:
Protection from damage that results from squirrels, bears, raccoons, snow loads, freeze-ups, and short-term rental residents

Protection for outbuildings, decks, docks, and outdoor equipment without any extra fees added

Protection from damage that is caused by septic backup and flooding, earthquakes, fuel oil release

Coverage for damage or total loss of motorized vehicles, campers, or trailers

Coverage for buildings used for farming or other business operations
Here is What's Not Covered by Cottage Insurance
Before partnering with an insurance firm in Ontario, cottage owners should keep in mind that some features are not included in standardized cottage insurance plans. These omissions include: 
Septic backup and flooding 

Earthquakes 

Fuel oil release 

Damage or complete loss of motorized vehicles, campers, trailers

Buildings used for farming or other business purposes
Therefore, to protect your property from these forms of damages, ensure that you talk to your insurance specialist at R&R Plan Cottage Insurance about additional coverage options available.
In Ontario, when should I purchase recreational property insurance?
The best practice is to purchase your recreational property insurance as soon as you buy the property. Can you imagine deciding to wait on buying insurance until closer to when you will first use the property, only for a thunderstorm to strike down a tree on top of the roof or for vandals to break in and destroy the house? Purchasing insurance right away will guarantee protection for your new secondary home from any unexpected events, including fire, personal liability, vandalism, theft, natural disasters and more.
Is recreational property insurance mandatory in Ontario?
Determining whether recreational property insurance is mandatory in the province where your secondary home is will depend on the laws of that province. In the province of Ontario, however, home, condo and tenant insurance are not required by law.
But even though it is not required, having cottage insurance is highly recommended and beneficial. Your cottage is more than just temporary accommodation. It is a place full of summer memories and family adventures. It is often your home away from home that you look forward to all year long. Having cottage insurance protects not only the property but also the contents inside. It also covers any detached structures, such as sheds and boathouses and their contents as well.
Also, another thing to remember is that buyers generally need to provide proof of home insurance to banks and lenders before advancing a mortgage.
No Pressure. No Obligation. Hassle-Free!
Step 1
Start Free Cottage Insurance Calculator
Step 2
Answer Only 10 Simple Questions
Step 3
Get an Instant Online Cottage Rate
Other Types of Insurance Available: