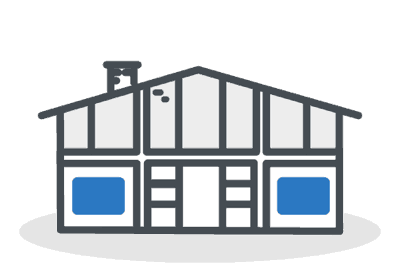 Port Carling Cottage Insurance
After a long work year, there is no better feeling than taking a well-needed vacation to your cottage. Even if you only visit your secondary property a few times a year, it is critical that cottage owners have the required insurance coverage that helps protect their home and possessions within it all year long.
R&R Plan understands the importance of putting our clients' needs first. Our insurance company has over 75 years of proven experience working with cottage owners to provide them with high-quality, customizable insurance plans that enable them to enjoy their secondary home with a sense of confidence, knowing they are protected by an extensive insurance plan that considers their style of living.  
Get a free insurance quote online with R&R Plan in Port Carling, Ontario, today!
Why do I need cottage insurance in port carling?
A comprehensive insurance policy, similar to how you would purchase insurance for your car, home, and boat, will protect you from being held legally liable for all damages and related expenses. This will not only provide you with the comfort of knowing that your cottage is safe when you are not on-site, but it will also allow you to thoroughly enjoy your holiday with your relatives and friends.
What does cottage insurance cover in port carling?
Seasonal Cottage Insurance
This seasonal cottage insurance policy covers your supplementary home against the following risks:
Fire destruction
Wind damage
Vandalism and theft
Structure collapse
Secondary Cottage Insurance
A secondary cottage insurance policy delivers a certified replacement cost while protecting your cottage and personal belongings against:
Fire damage
Storm damage
Theft and vandalism
Damage from bears, raccoons, and squirrels
Cottage Rental Insurance
You will have coverage for up to 6 months of the year with the following items with the cottage rental insurance policy: 
Personal liability protection
Owner's liability protection against loss or damage caused by your watercraft
Rental income protection
Builders Cottage Insurance
Begin building your perfect cottage while protecting it from damage and liabilities. This protection includes:
Protection of building materials both on and off-site
Coverage during transportation and construction
What type of insurance do I need if I rent my cottage?
If you intend to rent out your cottage when you aren't around for investment income, we recommend that you look into our all-inclusive Rental Cottage Insurance. This top insurance plan includes the following benefits.
Personal liability insurance protects you from third-party injuries that may occur on your property.
Coverage for limited rental income protects you from financial loss if your cottage is damaged as a result of an insured event.
Coverage for damage directly caused by the use of your watercraft.
Is cottage insurance mandatory in Canada?
It is determined by the province in which your cottage is located. Home, condo, and tenant insurance are not required by law in Ontario. However, before advancing a mortgage, most banks and mortgage lenders require home buyers to show proof of home insurance.
Is my cottage too small to insure?
No cottage is too small or too large for R&R Plan to insure. As long as you do not live on the property most of the year, you will be eligible for seasonal secondary property or cottage insurance.
No Pressure. No Obligation. Hassle-Free!
Step 1
Start Free Cottage Insurance Calculator
Step 2
Answer Only 10 Simple Questions
Step 3
Get an Instant Online Cottage Rate
Other Types of Insurance Available: