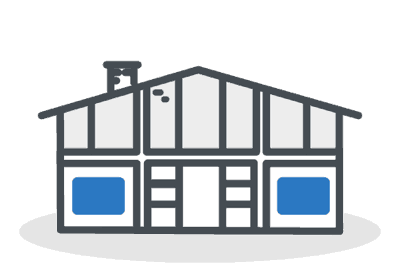 Peterborough Cottage Insurance
How Much Does Cottage Insurance Cost in Peterborough?
The cost of cottage insurance in Peterborough varies greatly depending on which type of cottage insurance you're looking for and the unique circumstances of your cottage. That said, you can generally expect your Peterborough cottage insurance to cost anywhere between $800 and $3,000 annually (the average cost of cottage insurance in Ontario). Given how wide-ranging cottage insurance can be in Ontario, we recommend taking advantage of R&R Plan's free cottage insurance quotes. We are pleased to offer free quotes to all Peterborough homeowners. In just three steps, you will receive an instant, obligation-free quote. 
What Is Cottage Insurance and Why Do I Need It?
Cottage insurance, sometimes referred to as vacation property insurance, is insurance that covers a property that is not your primary residence. In Ontario, the most common type of vacation property is cottages. R&R Plan has specialized in cottage insurance since its inception in 1993. This means that for nearly 30 years, we have been providing Peterborough residents with comprehensive, quality cottage insurance policies. We offer cottage insurance for all types of Peterborough cottagers, whether you own a seasonal property, year-round property, rental property, or a property that is just in the midst of being built! Let us help you safeguard your happy place.
What is included in Peterborough cottage insurance policies?
R&R Plan always aims to provide the best coverage possible. For this reason, each of our cottage insurance policies is as comprehensive as can be. Our cottage insurance is divided into four distinct plans: Seasonal Cottage Insurance, Secondary Cottage Insurance, Rental Cottage Insurance, and Builders Cottage Insurance.
R&R Plan's Seasonal Cottage Insurance is for those who exclusively enjoy their cottage in the spring, summer, and fall. This policy provides replacement costs on your cottage and your belongings inside of it. With this plan, your cottage is insured against fire, storm damage, theft, vandalism, building collapse, and more. 
Next, our Secondary Cottage Insurance for those who use their cottage year-round provides coverage relating to all buildings and outbuildings on your property. Under this plan, your property and its belongings are protected against fire, storm damage, extended perils, and even against damage caused by bears, raccoons, and squirrels (we offer the only coverage of this kind in Ontario). It also includes liability coverages of up to $5,000,000. 
Third, our Rental Cottage Insurance is for those looking to make their property investment more worthwhile by renting it out. Our specialized rental cottage program offers coverage for a minimum of 30 days and up to 180 days. Coverages include rental income, personal liability, and owner's liability.
Lastly, Builders Cottage Insurance is perfect for cottages in the process of being built. This unique cottage insurance plan covers your home against any physical damage or liabilities that could prevent or postpone the construction of your property, and protects construction materials both on and off-site, in transportation, and during construction.
How Can You Save on Home Insurance in Peterborough?
There are several ways you may be able to save on home or cottage insurance in Peterborough. Generally speaking, decreasing your liability by implementing safe solutions to common hazards can help reduce the cost of your cottage insurance. Such solutions include installing a fence around any pools on the property, keeping your dog (especially if it's large or aggressive) on a leash when outdoors on your property, and keeping your driveway and walkway clear of ice and snow during the winter. Other factors that may save you money on home insurance in Peterborough include your age (senior cottagers may receive a discount on home insurance), and if you choose to install the following: insulated pipes, an alarm system, or smart water devices, such as shut-off valves. 
At the end of the day, R&R Plan is committed to providing all Peterborough cottage owners with quality coverage at affordable prices. You can always trust us to provide comprehensive cottage insurance that won't break the bank. Competitive rates are what we're known for. Contact us today to learn more and receive a free quote on your Peterborough cottage insurance.
No Pressure. No Obligation. Hassle-Free!
Step 1
Start Free Cottage Insurance Calculator
Step 2
Answer Only 10 Simple Questions
Step 3
Get an Instant Online Cottage Rate
Other Types of Insurance Available: