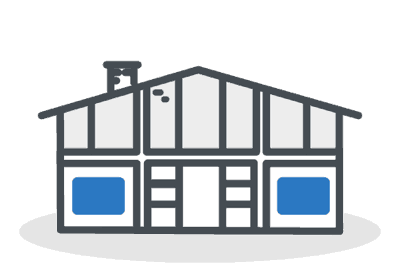 Lakehouse Insurance Ontario
Lakehouse Insurance Ontario
Imagine soaking up the sun along the sandy beach as you relax in your reclining beach chair, listening to the waves as they gently caress the shoreline. After a long year of work, it's time to get away for some much-needed rest and relaxation at your secondary property.
And what better way is there to unwind and temporarily disconnect from your responsibilities than to do so at your newly purchased lakehouse? But first, it's vital that you get cottage insurance that will protect your lakehouse and belongings all year long, even when you only visit your vacation home a few times a year.
The R&R Plan has been helping cottage owners insure their vacation homes for over 50 years. With our team of industry-leading insurance specialists, we offer cottagers in Ontario the best cottage insurance policies for Ontarians. Our straightforward policies are tailored to the various types of cottage properties, and we have specially curated them to guarantee your property is protected all year.  
At R&R Plan, we realize that each cottage owner requires an insurance policy tailored to their needs. Our professional cottage insurance specialists collaborate with clients to figure out the perfect type of safeguarding they need.
With exceptional customer service and the capacity to create personalized cottage insurance plans, you can count on us to protect your assets and interests. That's why cottage owners in the province of Ontario can be confident that we have their back. We're absolutely certain we can provide you with the perfect protection plan for you and your family. 
R&R Plan is the only online cottage insurance quote provider in Ontario. Our goal is to make insurance a simple, fast, and convenient process for all cottage owners in Ontario.
How does lakehouse insurance work in Ontario?
A cottage insurance plan will typically cover building and property damage to your secondary dwelling, such as a lakehouse, while simultaneously protecting you from personal liability if a visitor is seriously hurt while on your property. For example, if a visitor should take a fall off your deck and injure themselves, they could file a civil suit against you. However, the terms of conditions in your customized cottage insurance policy would protect you in this instance.
You'll want to find out of your policy covers expenses for upgrading your cottage in order to meet safety and permit codes. You should also make sure to confirm whether or not your insurance would cover the price of the home or the replacement cost of your lakehouse.
Lucky for you, the professional and knowledgeable team at R&R Plan will provide you with answers to all of your questions and more while you collaborate alongside them to personalize your cottage insurance in Ontario. We aim to ensure our clients are well advised and confident in their tailor-made insurance policies.
Why is lakehouse insurance so important?
Lakehouse properties can present different risks than what you may expect. As such, having a broad insurance policy, similar to your insurance policies for a car, home, and boat, will protect you against being held legally liable for all damages and associated expenses.
Knowing that your lakehouse is protected when you are away will offer you a much-needed sense of safety and security. It also allows you to spend your vacation worry-free with your friends and family. Lakehouse insurance in the province of Ontario can protect vacation property owners against:
Your property has been damaged.
Injuries or death to third parties
Associated medical expenses
Vandalism and theft
Legal fees that may be incurred as a result of a lawsuit
Having a lakehouse as your vacation home comes with a higher potential for injury or death situations to arise. Some of these situations include:
Accidental drowning
Diving into shallow water
Boat propellers
High-speed boating
Water skiing
While lakehouse insurance is not mandatory in the province of Ontario, having sufficient liability insurance coverage can give you peace of mind. Instead of running the risk of being held personally responsible for unexpected accidents, damages, and losses, having lakehouse insurance will ensure that you and your vacation home are safeguarded with an insurance policy that reflects your needs as a lakehouse owner.
What is covered by lakehouse insurance in Ontario?
R&R Plan offers comprehensive cottage insurance for cottage owners in Ontario in the following categories:
Seasonal Cottage Insurance
This seasonal cottage insurance policy protects your secondary home against:
Fire damage
Storm damage
Theft and vandalism
Building collapse
Liability coverage available for up to $5,000,000
Protection for an outbuilding, decks, and docks without any additional costs.
Secondary Cottage Insurance 
With our Secondary Cottage Insurance policy, we offer year-round, guaranteed replacement costs while protecting your cottage and personal belongings against:
Fire damage
Storm damage
Theft and vandalism
Damage from bears, raccoons, and squirrels
Liability coverage available for up to $5,000,000
Cottage Rental Insurance 
With the cottage rental insurance policy, you'll have coverage that includes:
Personal liability protection in the event a third party injures themselves on your property
Owner's liability protection against loss or damage caused by your boat
Rental income protection against financial loss due to damage or insured perils
You'll be thoroughly covered for up to six months of the year with this insurance plan
Builders Cottage Insurance 
Start your cottage construction while protecting your structure against damage and liabilities. This coverage includes:
Protection of building materials both on and off-site
Coverage during transportation and construction
What is not covered by lakehouse insurance in Ontario
When applying for seasonal cottage insurance, the following is not typically offered in standard cottage insurance plans:
Septic backup and flooding
Earthquakes
Fuel oil release
Damage or complete loss of motorized vehicles, campers, and trailers
Buildings used for farming or other business purposes
However, cottage owners in Ontario have the ability to add to their portfolio our additional cottage insurance options for secondary property owners, which include:
Protection from damage that results from squirrels, bears, raccoons, snow loads, freeze-ups, and short-term rental residents
Protection for outbuildings, decks, docks, and outdoor equipment without any extra fees added
Protection from damage that is caused by septic backup and flooding, earthquakes, fuel oil release
Coverage for damage or total loss of motorized vehicles, campers, or trailers
Coverage for buildings used for farming or other business operations
Our additional cottage insurance coverages provide cottage owners with more flexibility and peace of mind while remaining within their budget constraints during their time at the lakehouse.
Is lakehouse insurance mandatory in Ontario?
Whether or not lakehouse insurance is mandatory is determined by the province in which your cottage is located. On that note, home, condo, and tenant insurance are not required by law in Ontario. However, banks and mortgage lenders generally need home buyers to provide proof of home insurance before advancing a mortgage.
Should I insure my lakehouse for any flooding event?
Having a home by the water is vastly different than living in the city. Having a waterfront home means you are significantly more at risk of damage from events such as:
Windstorms
Huge waves
Hurricanes
Floods
Events like these can cause catastrophic loss and damage to your lake home. Your property will still be considered high-risk even if you are not in a "high-risk" zone for flooding. Even if your house is down the street, any body of water can still cause a flood that could make its way to your home.
Therefore, it's important to ensure your lake house has flood insurance. As flooding is not typically part of standard secondary home insurance plans, make sure you talk to your R&R insurance specialist about our additional coverage options to ensure you are fully protected against flooding.
Does the size of my lakehouse matter for my insurance rate?
The replacement cost is often a significant factor in determining cottage insurance. The more it will cost to replace your home, and its contents, the higher your cottage insurance premiums will be. Therefore, the larger the lakehouse, the higher your insurance rate will be.
In addition to knowing the square footage of your lakehouse, it's important to know the following when getting insurance quotes:
The age of your property
How it was built
The size of it (square footage)
The number of floors it has
Whether the basement is finished or unfinished
By knowing this information about your vacation home, you'll be able to accurately gauge how much insurance protection you need to cover your home's replacement value. This way, you can avoid being caught short and having to cover the rest out of pocket in the event your lakehouse needs to be replaced.
Thankfully, with R&R Plan, no vacation home is too small or too large to insure. As long as you do not reside on the property all year, then you will qualify for secondary or seasonal cottage insurance. In addition, cottage owners have the option of adding additional cottage insurance coverage options to ensure they are fully protected and ready for anything.
No Pressure. No Obligation. Hassle-Free!
Step 1
Start Free Cottage Insurance Calculator
Step 2
Answer Only 10 Simple Questions
Step 3
Get an Instant Online Cottage Rate
Other Types of Insurance Available: