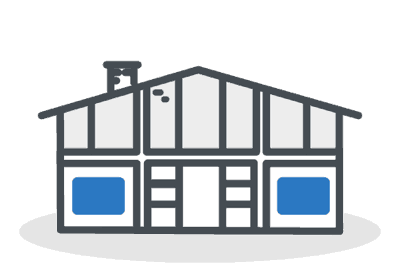 Kawartha Lakes Cottage Insurance
Having a cottage or secondary vacation property is common for many Canadians. Whether you enjoy spending the summer months away from your primary residence or participating in winter activities, Kawartha Lakes is a popular cottage destination. That's why it's important to think about how you can keep your seasonal property safe against financial loss and liability.
The R&R Plan Cottage Insurance program is trusted by cottagers in Ontario and offers the best cottage insurance policy for Ontarians. We've been in the cottage insurance market for more than 50 years and have earned the trust of many Kawartha Lakes cottage owners. We offer cottage insurance policies that are comprehensive and tailored to the various types of cottage properties and designed specifically to keep your property safe all year round.
Our team of professional cottage insurance specialists has extensive knowledge of the cottage insurance market and the products available. We understand that each cottage owner requires a unique cottage insurance policy that fits your risk tolerance needs and budget. Our policies are flexible and offer you the exact protection you need to confidently vacation with your friends and family regardless of the time of year.
We work closely with you to understand exactly what type of protection you need and find you the best rates to fit your budget. Some of our coverages are exclusive to the R&R Plan Cottage Insurance program, including squirrel damage, bear damage, snow load, and freezes. We also offer tailored protection for long-term and short-term cottage users.
In addition to our exclusive coverages, we're also the ONLY online cottage insurance quote provider in Ontario. Our goal is to make insurance a simple, fast, and convenient process for all cottage owners in Kawartha Lakes.

Ready for affordable and quick Kawartha Lakes cottage insurance from the R&R Plan Cottage Insurance program? Get a quote from us today!
What does cottage insurance cover?
Cottage insurance protects your cottage against financial loss from third-party liability claims and insured perils, such as a fire, falling, objects, flood, sewage backup, or theft. Insurance also covers any detached structures that are a part of your cottage, such as surrounding fences, garages, sheds, and equipment used to maintain your cottage for short-term or long-term stays.
While cottage insurance has similarities with a standard homeowners insurance policy, cottage insurance protects your vacation property or second property instead of your primary residence. Here are some of the typical coverages that come with most cottage insurance policies in Kawartha Lakes:
Property and contents
Cottage insurance covers your property and any personal belongings in the cottage that you keep temporarily or year-round. It also covers the personal belongings of your family that stay with you at the cottage. If your property or its contents are destroyed or damaged because of a peril outlined in your R&R Plan Cottage Insurance program policy, you can be covered for repairs and replacements up to your policy limit.
Liability coverage
Your Kawartha Lakes cottage insurance policy from the R&R Plan Cottage Insurance program also has liability coverage to protect you and your family against claims of injury or property damage from a third party, such as a friend or guest. It covers medical bills, compensation for damaged property or injuries, and legal defence fees. For example, if a guest sues you because they slipped on your icy driveway and broke their back, your cottage insurance policy covers you.
Why is cottage insurance so expensive?
It's common for cottage insurance to be more expensive than a standard homeowner's insurance policy. The average cost of cottage insurance in Ontario is $800 to $3,000 each year. Although you typically spend more time in your primary residence than your cottage, Ontarians only have to pay on average $1,250 annually for home insurance.
Having a cottage poses different and sometimes more significant risks than owning a primary home. Since Kawartha Lakes is likely a more remote location from your primary residence and your cottage is unoccupied for a few months each year, the threats of liability claims and damages are greater compared to your primary residence.
For example, if there's squirrel damage or a fire at your cottage in Kawartha Lakes, it's unlikely that you'll be able to notice or respond to the accident right away. As a result, the damages that you claim with the cottage insurance company are likely greater. A frequently empty property is also a greater target for acts of vandalism or theft.
Since having a cottage poses higher risks of damage and liability claims for you, there's also a higher risk for the insurance company to provide you with cottage insurance.
Is there an added cost to my premiums if I have a wood stove in my cottage?
Having a wood stove in your cottage can increase your premiums depending on the cottage insurance company you use. Open or contained flames pose a greater risk for accidents and increase the possibility of an insurance claim. As a result, many cottage insurance companies charge a higher premium to compensate for their increased chance of paying a claim.
However, with the R&R Plan, we don't make your cottage insurance premiums higher if you have a wood stove in your cottage. As cottagers ourselves, we understand the importance and appeal of a wood stove or fireplace. That's why we provide coverage for cottages with wood stoves at no extra cost.
Do you provide insurance coverage for water access cottages?
Yes, water access cottages are covered under the R&R Plan Cottage Insurance program. Not only do we insure your water access cottage, but our program covers any equipment, watercrafts, and accessories that are on your cottage property up to a maximum of $5,000 per occurrence. We also provide coverage for boats up to 25hp and 26ft in length while they're in the water at no extra cost.
If you have a boat that's bigger and more powerful, contact one of our expert sales representatives to have it added to your R&R Plan cottage insurance policy.
Do you insure land lease cottages?
Yes, land lease cottages are included in the R&R Plan. As veterans in the cottage insurance market, we have been insuring land lease cottages since 1993. You can rest assured and be confident that your land leased cottage is fully protected with our R&R Plan Cottage Insurance program.
 Our coverage includes protection for the structure and contents of your land leased cottage in case of fire or extended perils like storm damage, building collapse, theft, and burglary. The replacement costs provided are on a new-for-old basis for your cottage.
No Pressure. No Obligation. Hassle-Free!
Step 1
Start Free Cottage Insurance Calculator
Step 2
Answer Only 10 Simple Questions
Step 3
Get an Instant Online Cottage Rate
Other Types of Insurance Available: