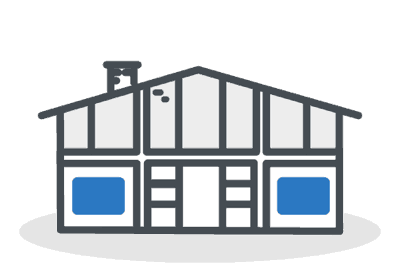 North Bay Cottage Insurance
North Bay residents work hard throughout the year, so when they finally plan their vacation, they can leave their responsibilities at home before kicking back and relaxing at their cottage. 
For over 75 years, R&R Plan has been working with North Bay cottage owners to craft customizable insurance plans that tailor to their unique needs as cottage owners. From seasonal cottage insurance and secondary cottage insurance to cottage rental insurance and builder's cottage insurance, R&R Plan is a leading firm with specialists who are well-equipped with the knowledge and skills to provide quality coverage solutions. 
Get a free quote today and partner with an insurance firm that has your best interests in mind.
Are there additional cottage insurance coverages?
Yes, R&R Plan is pleased to offer additional North Bay cottage insurance coverage, including options for damage directly caused by squirrels, bears, raccoons, snow loads, freeze-ups, and short-term rentals. We also provide protection for outbuildings, decks, docks, and outdoor equipment without any extra fees, which means you can comprehensively insure your secondary property without going over budget. 
Do I need to tell my insurance broker that I rent my cottage?
If you plan on renting your cottage when you are not there for passive income, then we suggest looking into our all-inclusive Rental Cottage Insurance. Features of this leading insurance plan include:  
Personal liability coverage that protects you against third-party injuries that may occur on your property 

Limited rental income coverage protects you from financial loss if your cottage is damaged due to an insured event.

Coverage against damage directly caused by the usage of your watercraft
How is cottage insurance different from home insurance?
Cottage insurance and home insurance are very similar. However, there are some notable differences as well. As your cottage is likely not your primary home, owners are provided with more flexibility when choosing an insurance policy that works for their needs. This includes seasonal coverage, short-term rental coverage, and secondary cottage plans. Nonetheless, you can rest assured knowing your secondary property is similarly and amply protected from damage, injury, or loss as your primary home is. 
Do I need to insure my recreational items?
R&R Plan takes pride in offering leading policies for North Bay cottage insurance unbeatable by other firms. This means that you won't need to worry about additional coverage, and protection for recreational items as they are already included in your plan for free. 
No Pressure. No Obligation. Hassle-Free!
Step 1
Start Free Cottage Insurance Calculator
Step 2
Answer Only 10 Simple Questions
Step 3
Get an Instant Online Cottage Rate
Other Types of Insurance Available: