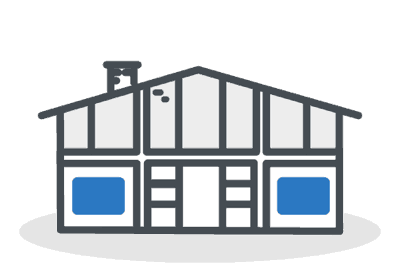 Muskoka Cottage Insurance
At R&R Plan, we put our clients first. With over 75 years of industry experience, our professional insurance specialists understand the significance of crafting an insurance plan that comprehensively tailors to the unique needs of each client we work with. Our goal is to ensure you receive excellent customer service and cottage insurance plans that leave you confident each time you visit your secondary property. With several cottage insurance options available and competitive industry pricing; you'll never have to feel like you're settling when it comes to your cottage. 
Here is how we can help:   
Seasonal Cottage Insurance 
Get the most out of each visit to your cottage with the R&R Plan Seasonal Cottage Insurance Coverage. This all-inclusive insurance policy protects your cottage against: 
Fire damage 

Storm damage 

Theft and vandalism 

Building collapse 

And more!
 With liability coverage available for up to $5,000,000 and protection for an outbuilding, decks, and docks without any additional costs, this is perfect for families who only visit their cottage a couple times a year. 
Secondary Cottage Insurance 
With our Secondary Cottage Insurance policy, we offer a guaranteed replacement cost while protecting your cottage and personal belongings against:  
Fire damage 

Storm damage 

Theft and vandalism 

Damage from bears, raccoons, and squirrels 
With coverage all year round and liability policies available for up to $5,000,000, you can rest assured knowing your property and outbuildings are protected from unexpected perils. 
Cottage Rental Insurance 
Are you thinking of renting your cottage when you're not there to make a passive income? R&R Plan can help you do so safely! With the Cottage Rental Insurance policy, you'll have coverage that includes: 
Personal liability protection should a third-party injure themselves on your property 

Owner's liability protection against loss or damage caused by your watercraft

Rental income protection against financial loss due to damage or insured peril  
You'll be comprehensively covered for up to 6 months of the year with this insurance plan for the best of both worlds. 
Builders Cottage Insurance 
Lastly, with the R&R Plan Builders Cottage Insurance plan, you can confidently begin your dream cottage construction while protecting your structure against damage and liabilities. This coverage includes: 
Protection of building materials both on and off-site 

Coverage during transportation and construction 
Are you ready to begin crafting your Muskoka cottage insurance plan with the help and guidance of the insurance specialists at R&R Plan? Get a free online quote before speaking to one of us directly. 
What will an insurance broker want to know when I'm purchasing cottage insurance?
To ensure your cottage insurance policy is tailored to your unique needs and property, your insurance broker will ask you a series of questions. Some information they will ask for includes: 
Your access to emergency services such as the distance of your cottage from a fire hydrant and firehall, along with how many smoke detectors you have installed.

If you plan on renting your property, they will need to know what months out of the year you plan to do so and how many occupants will be on the property.

Building details include the square footage of your property and cottage, the current condition and age of your property, whether you have any additional structures on the premise, the type of heating, plumping, and roof, and the approximate value of all belongings stored on your property
 At R&R Plan, we only require cottage owners to answer 10 straightforward questions!
What factors impact the cost of cottage insurance?
Factors impacting the cost of Muskoka cottage insurance will include:
The type of policy you choose to purchase

Your access to emergency services

The size of your property

Additional property features

The kind of road access to your cottage

How often your cabin will be occupied

Whether you plan on renting out your cottage to others

The type of electrical system you have

And more
Am I covered by the owner's cottage insurance if I'm staying at a rental cottage in Muskoka?
Generally speaking, if the cottage owner has a comprehensive insurance plan in place, then you as a renter will be covered should damage, injury or a loss of life occur on the property during your stay. However, for additional insurance coverage, travellers may wish to purchase travel insurance for extra peace of mind.
What is not covered by cottage insurance?
Before working with an insurance firm, Muskoka cottage owners should keep in mind that there are several features not covered in standard insurance plans. Common exclusions not included in cottage insurance include: 
Septic backup and flooding 

Earthquakes 

Fuel oil release 

Damage or complete loss of motorized vehicles, campers, trailers

Buildings used for farming or other business purposes 
Get a free quote online with the professional team at R&R Plan today!
No Pressure. No Obligation. Hassle-Free!
Step 1
Start Free Cottage Insurance Calculator
Step 2
Answer Only 10 Simple Questions
Step 3
Get an Instant Online Cottage Rate
Other Types of Insurance Available: