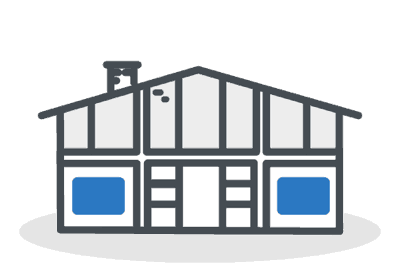 Gravenhurst Cottage Insurance
Your Leading Gravenhurst Cottage Insurance Firm 
If you're lucky enough to own a cottage in Gravenhurst, then you know first-hand that there is no better feeling than leaving your responsibilities behind in the city to enjoy a nice little get-away close to home. Therefore, regardless of whether you're only able to make it to your cottage a couple times a year, it's still important to own a comprehensive cottage insurance plan to protect your property and family during your vacation.
At R&R Plan, we put the needs and interests of our clients first. With over 75 years of experience in the insurance industry, our team consists of leading insurance specialists who are equipped with the knowledge and skills to provide you with high-quality protection. We understand that not all cottage owners are the same, which is why we are committed to working with clients closely to craft a customizable insurance policy that works with your needs. 
Get a free insurance quote online before speaking to one of the insurance specialists at R&R Plan today.
What Does Cottage Insurance Cover in Canada?
There are numerous Gravenhurst cottage insurance plans that owners can choose from. Here is how the team at R&R Plan is prepared to help you: 
Seasonal Cottage Insurance 
Provides coverage against: 
Fire damage 

Storm damage 

Theft and vandalism 

Building collapse 

Liability coverage available for up to $5,000,000 

Protection for an outbuilding, decks, and docks without any additional costs.
Secondary Cottage Insurance 
With our Secondary Cottage Insurance policy, we offer a guaranteed replacement cost while protecting your cottage and personal belongings against: 
Fire damage 

Storm damage 

Theft and vandalism 

Damage from bears, raccoons, and squirrels 

Liability coverage available for up to $5,000,000
Builders Cottage Insurance 
This coverage includes: 
Protection of building materials both on and off-site

Coverage during transportation and construction
Why Do I Need Cottage Insurance in Gravenhurst?
Similar to how you would insure your vehicle, boat, or home, cottage insurance in Gravenhurst is a must, even if it is not your primary property throughout the year. Without a comprehensive cottage insurance plan, you can be held legally accountable for all costs and losses, including: 
Damage to your property

Third-party injuries or death

Related medical expenses

Theft and vandalism

Associated legal fees that may arise from a lawsuit. 
Therefore, by purchasing a high-quality insurance policy for your cottage in Gravenhurst, you can rest assured knowing that your assets and interests are protected so you can enjoy the comforts of your cabin all year round. 
What Insurance Do I Need if I Rent My Cottage?
Renting your cottage throughout the year is a great way to generate a passive income. And, with the help of R&R Plan, cottage owners can operate their cottage rental safely with our exclusive Cottage Rental Insurance policy. With this policy, cottage owners will have the following protection: 
Personal liability protection protects you in the event that a third party injures themselves on your property during their stay. 

Owner's liability protection against loss or damage caused by your watercraft when it is being operated by a third-party

Rental income protection against financial loss due to damage or insured peril  
This comprehensive policy coverage protects cottage rental owners for up to 6 months of the year. That way, you can still enjoy the benefits of your cabin throughout the year while renting it out to others during the months you are away.
Do I Need to Insure My Recreational Items?
At R&R Plan, we pride ourselves in offering cottage owners in Gravenhurst all-inclusive insurance policies that are unmatched by other firms. For these reasons, you will not have to worry whether additional insurance is required for your recreational items located on your cottage property, as it will already be included in your cottage insurance policy at no extra cost. 
Is My Cottage Too Small to Insure?
No cottage is too small or too large to insure with R&R Plan. As long as you do not reside on the property all year, then you will qualify for secondary property or cottage insurance that is seasonal. In addition, cottage owners have the option of adding secondary Gravenhurst cottage insurance that offers a guaranteed replacement cost on insured losses and damages. 
No Pressure. No Obligation. Hassle-Free!
Step 1
Start Free Cottage Insurance Calculator
Step 2
Answer Only 10 Simple Questions
Step 3
Get an Instant Online Cottage Rate
Other Types of Insurance Available: