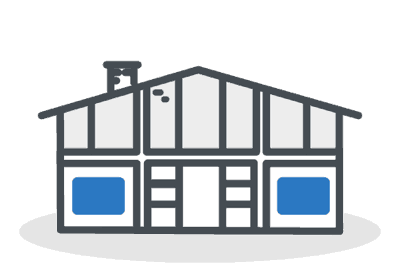 Bracebridge Cottage Insurance
Your #1 Choice for Bracebridge Cottage Insurance 
For over 75 years, R&R Plan has been working alongside Bracebridge cottage owners to help them create customizable insurance policies that work for their unique needs and expectations. We understand that Bracebridge residents work hard throughout the year so they can enjoy their time away when they are on vacation. This is precisely why our insurance agents are dedicated to using their years of experience, expertise, and knowledge to help you feel confident in your Bracebridge cottage insurance plan. 
Get a free quote with an insurance firm you can put your trust in.
Why Do I Need Cottage Insurance in Bracebridge?
While you may not be at your secondary property more than a couple of times a year, without proper insurance, you will be held legally responsible for paying the costs of losses, including damage to your property, third-party injuries, or death, related medical expenses, theft, vandalism, and associated legal fees that may arise from a lawsuit. Therefore, by purchasing a comprehensive insurance policy for your cottage in Bracebridge, Ontario, you can have peace of mind knowing that you will not have to pay for any related costs for damages within your insurance limits to protect your interests and assets as a cottage owner. 
Are there optional coverages for cottages that I should consider?
Yes, R&R Plan does offer additional coverage policies for cottages. This includes damage caused by squirrels, bears, raccoons, snow loads, freeze-ups, and short-term rental residents. In addition, R&R Plan is also pleased to provide protection for outbuildings, decks, docks, and outdoor equipment without any extra fees. This means that cottage owners can comprehensively insure their secondary property while remaining within the budget constraints to give you more flexibility and peace of mind during your time at your cottage.  
How is Cottage Insurance Different from Home Insurance?
While Bracebridge cottage insurance and home insurance are very similar, there are some differences you should be aware of. Because your cottage is not your primary residence, cottage owners have relatively more flexibility regarding available insurance policies than what is possible for your primary home. These policies include: 
Seasonal coverage

Short-term rental coverage

Secondary cottage policies
What Will an Insurance Broker Want to Know When I'm Purchasing Cottage Insurance?
To make sure your cottage is comprehensively protected by your insurance plan, an insurance agent will be required to ask you for specific details related to your cottage. This information includes: 
The distance between your cabin and the nearest fire hydrant or fire hall

How many days out of the year do you plan on being there 

How often do you check in with your cottage to ensure everything is operating properly 

If you have any add-ons, you wish to include, such as boat insurance, or other recreational equipment 

Building details about your cottage, including its age, square footage, type of construction, roof type, heating and plumbing systems, and the value of other belongings located on the property
What is Not Covered by Cottage Insurance?
Before partnering with an insurance firm in Bracebridge, Ontario, cottage owners should keep in mind that some features are not included in standardized cottage insurance plans. These omissions include: 
Septic backup and flooding 

Earthquakes 

Fuel oil release 

Damage or complete loss of motorized vehicles, campers, trailers

Buildings used for farming or other business purposes 
Therefore, to be protected from these forms of damages, ensure that you talk to your insurance specialist at R&R Plan about additional coverage options available to you. 
Get a free quote online before speaking with a member of the insurance team at R&R Plan for more information.
No Pressure. No Obligation. Hassle-Free!
Step 1
Start Free Cottage Insurance Calculator
Step 2
Answer Only 10 Simple Questions
Step 3
Get an Instant Online Cottage Rate
Other Types of Insurance Available: